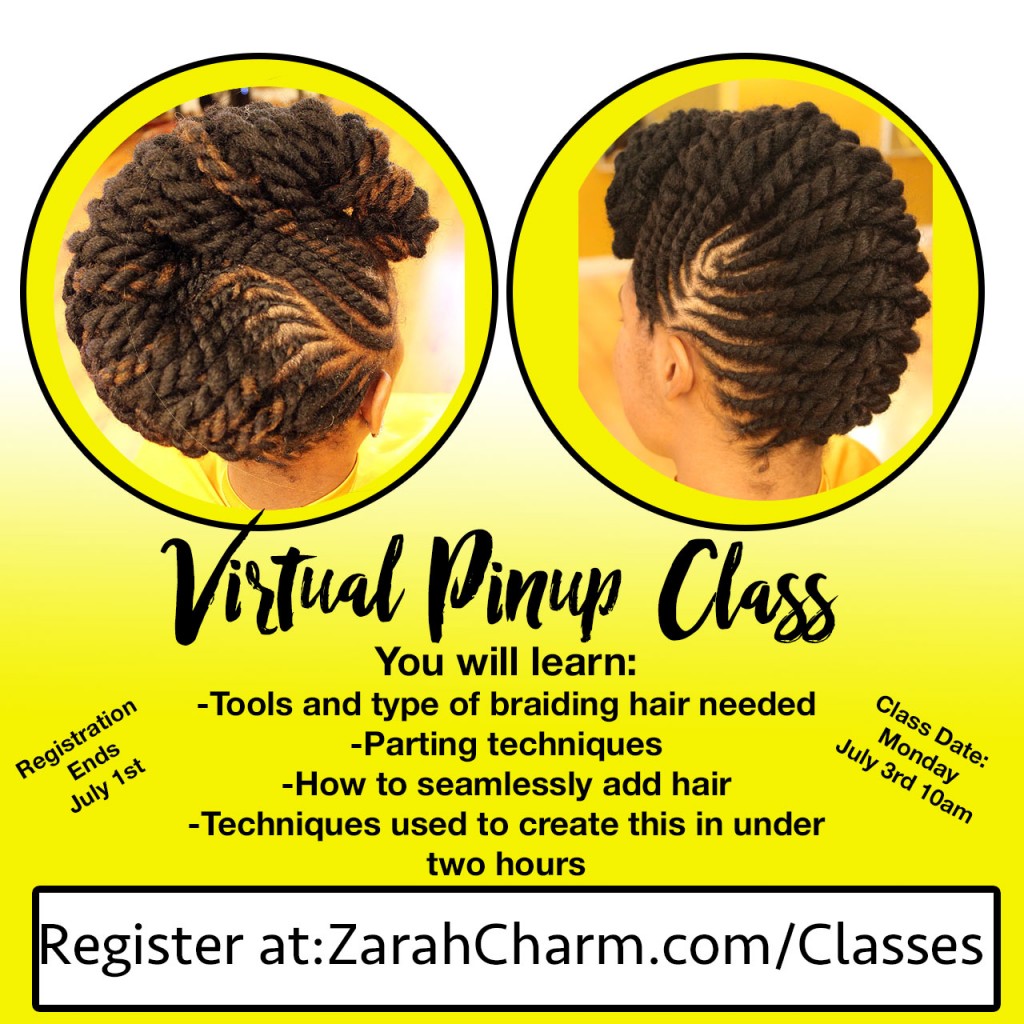 Are your up do's taking longer than two hours to complete? Are you wasting money by using more than one pack of hair? Are your up do's lackluster?  Or do you have a growing natural hair clientele that you need to service?
Then this is the class for you!
As a natural stylist with over 10 years under my belt, I have spent long hours perfecting my flat twist pinup technique. After years of doing this I'm finally ready to share the style that is literally my bread and butter.
WHO IS THIS CLASS FOR?
Stylists (with or without a license) who know can at minimum flat twist without hair added.
Why Should I Learn This?
1. You can easily add an extra
$1500-$1700 a week

doing this flat twist pinups

PART-TIME

!
Don't believe me? Here's how much I've made so far with my signature style.
Between January 1st and June 19th, I've done 143 Flat twist Pinups . With a cost of $125.00 all done in 214.5 hours (I block off 1.5 hours to complete), that breaks down to $83/ Hour !

2. It takes
less than

2 hours

to complete.
When I include a shampoo, my clients are in and out of the salon in exactly 2 hours. Without a shampoo it takes an hour and a half.
3. Products and hair cost are low- which means
more profit for you

!
It costs less than $10 to create this style, including braiding hair.
4. It's unique while still being
chic and professional

.
This style can easily match the style of a large array of clients. Create designs that are bold and unique for your eccentric clients and create sleek, simple designs for your professional clients.
5. It's better for
hair growth

than cornrows.
This is always a concern for clients who are natural or transitioning. The style allows you to gently add hair at the root without damaging weak edges. My clients rave about how loose but secure it is. This style lasts for 3 weeks with proper care.
WHAT WILL I LEARN?
All of the techniques and tools I use to create this style in under two hours

Parting techniques and design ideas

Tips and tricks to create a salon finish

How to seamlessly and gently add hair to flat twists at the root
 BONUS: All registrants will be the first to receive "Gain and Retain" – my personal guide to building and maintaining a steady client base . 
The course is so valuable, this is last time I'm offering it at this price so  register today!